Online Ordering Is NOW AVAILABLE >>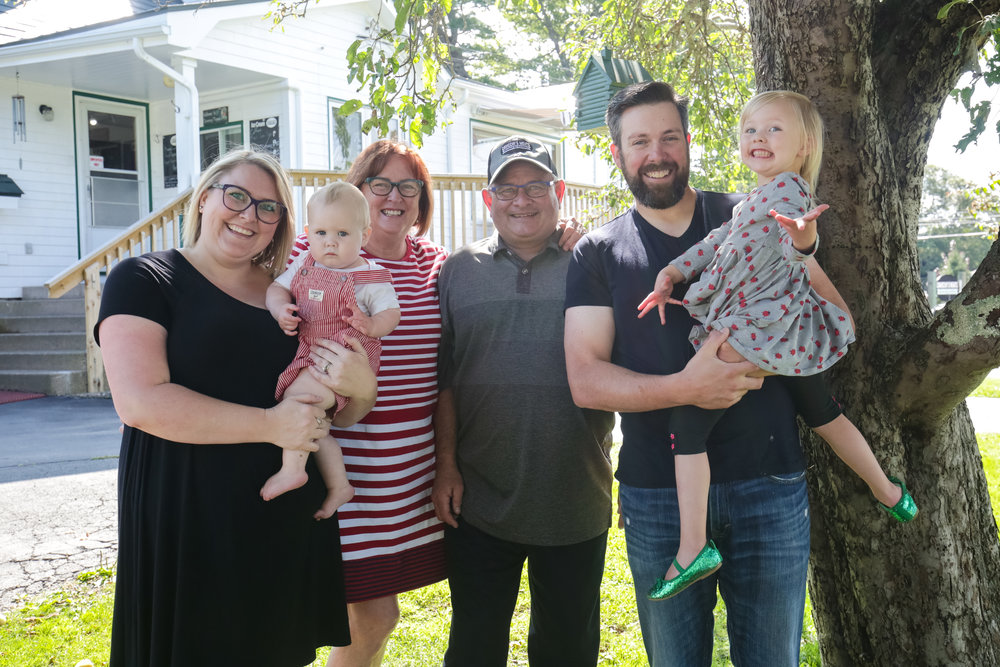 "We stand by our values; No short cuts. Do what you say, and mean it. Be knowledgeable. Be honest. Happy is good." — Grant Cavicchi
Family and business, backed by tradition.
Cavicchi's Meats is owned and operated by Grant and Bev Cavicchi and was established fairly recently—when the family's basement was turned into a provincially inspected and licensed plant in 2008. Grant has created unique and time-tested products by drawing on his experiences in the meat cutting industry, retail grocers, and alongside mentor meat cutters from Italy and Hungary. Like yours, our family has a rich history full of strong values, unique stories and treasured traditions. Each generation passed down methods and recipes that would go on to be used in our first sausages. With a stroke of good luck, a lot of hard work, and more than 35 years of experience, our local family business was born! The continued and significant following for Grant's sausages and other products is surely what has facilitated our success. Cavicchi's Meats is a proud local business built upon a strong foundation of family values. Our no-nonsense sausage recipes helped us to flourish into the amazing business you see today.
After many years of providing local businesses with our product, we decided it was time for something new. So, with the help of their daughter Venessa, Bev and Grant opened their storefront in April 2017. Grant's original family home transformed! With our provincially regulated meat cutting facility just down the driveway, at Grant and Bev's current home, the Cavicchi family and staff can produce and supply from the same property, keeping the product fresh and local. Both the smoke-house and processing facilities are visible from the store's back window. At the storefront, you can find the pioneer gluten free sausage flavors (Regular, Mild Italian, Hot, Apple, Maple), along with the corned beef and pork Cavicchi's has been supplying retailers with for over 10 years! Exclusive to the storefront you can also find new flavors of gluten free sausages, hand-cut meats, pepperoni, home-smoked bacon, baked goods, eggs, and an array of other revolving products are sure to meet your grocery needs! Grant and his team work hard to bring an ever-changing stock to the storefront, so there is always something new to try. Cavicchi's Meats is also strongly committed to supporting the 'shop local initiative' by providing products from dozens of local businesses, pastas, oils, snacks, soups and ice-cream are all regular staples! 
The addition of our storefront and the expansion of our team means the values we hold close become even more important. We always strive to make every experience a positive one, and believe consistency is the key. Providing a reliable and enjoyable product is our main objective. Our hope is that every time they visit, each guest feels they are becoming a crucial part of our family. The entire team works tirelessly to provide products and service we back 100%. With exciting creations arriving in our storefront constantly, we always encourage you to come in and ask what's new! The goal was always to provide locally sourced and made products, support our other wonderful family-run businesses, and create a gathering space; all while developing and growing alongside the close-knit community. So thank-YOU for continuing to support our initiatives! 
Since 2018, the store is now accompanied by our full-service restaurant, sure to satisfy any craving! We aim to provide quality meals inspired by family traditions, with a contemporary twist. Come enjoy local food and drink in the dining room or on one of our patios!